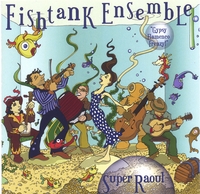 Where can you find an accordion, violin, guitar, bass, Japanese shamisen, beautiful vocals, and a bowed saw all in the same place? Why the Fishtank Ensemble of course! This group blends Eastern European, Gypsy, Japanese, Jazz, and overall folk sounds to transport your ears and imagination to the villages of the east.
Their debut album, Super Raoul ("cool" in gypsy slang), opens up with Bordeas, featuring the Ursula Knudson on voice as well as an introductory solo by each of the major instruments. They translate into a slower piece, Itty Bitty Snitty Little Frenchman, a duet between the accordion and saw that slowly includes the other members of the group.
Pegasus Vaulters features the lesser known Stroh Violin, a type of horned instrument used before the days of amplification to combat the volume of wind instruments. The Stroh Violin has a slightly nasal timbre that lends itself nicely to the style of music.
Hora Di Bucharest/Hora Di Fabrice is two dances (hora) that blend from one to another. The first is long yet catchy melody that is fun to bounce along with while the second picks up quite a bit of tempo! Le Kiddnappeur is a fantastic duel between the violin, guitar and shamisen that rivals the famous Dueling Banjos!
If you have listened to the album Palace of Mirrors by Estradasphere, you may recognize Suite Romaine. This piece (to the best of my knowledge) was created by the Fishtank Ensemble and later covered by Estradasphere along with obligatory metal accents.
Fishtank Ensemble's second album, Samurai Over Serbia, continues with another fantastic collection of traditional and or original tunes. The title track, Samurai Serbia, features incredible upright bass and vocal solos! You'll also find a gypsy version of the familiar song, Mozart's Turkish March, on this album! (video below with a Stroh Violin).
Audio Samples Below:
>
Pick up Super Raoul Compact Disc | MP3 Download
Pick up Samurai Over Serbia Compact Disc | MP3 Download
Check out more cool bands featuring violinists at the Stringsavvy Store