Review Questions
How how many beats is a half note?
How do you play through a first and second ending?
Are you comfortable with the left hand 4th finger pizzicato?
Hello and welcome to Stringsavvy.com Violin Lesson #10! In lesson #9 we learned about playing half notes, following through 1st and 2nd endings, as well as a basic intro to left hand pizzicato. Today's lesson is going to cover the use of the fourth (4th) finger!
In the last lesson we played through 'Texas Two String,' which required us to pluck open strings with our 4th finger. Hopefully this also helped teach us a proper shape for our 4th finger while also building strength! The fingers should always have a rounded shape for the purpose of accuracy and agility.
Start first by practicing setting the 4th finger down correctly. If it collapses then you may need to check out your angle of attack. Your fingers should maintain their hook shape and turn from the base knuckle of your hand like how a door swings from a hinge.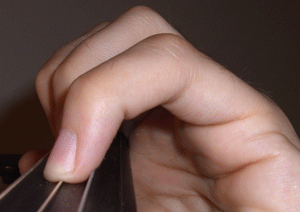 Finding Pitch
Once we have practiced placing the finger down with form, lets try and match it to our open string! Play your open A string, and then place your fourth finger down on the D string, comparing the two pitches. Do they sound like the same note? Or does one sound higher than the other?
If your 4th finger A sounds higher than the open A string, that means you need to move your finger closer to the nut. If it sounds lower than the open A string, then you need to move your fourth finger higher up closer to the bridge.
Always make small adjustments! Play both notes together at the same time to check- if it sounds like ONE note then you are perfectly in tune! This process very likely is easier if you are using a "Don't Fret" or have a 4th finger tape placed for you by a local teacher.
Now that you have found your note, release your finger and reset it back on the string several times, each time checking to make sure you have landed in the exact same spot by checking against your open A for accuracy.
Alternating Finger Exercise
This exercise is designed to help you shape your fingers and watch your angles so as to not mute other strings when playing. For instance, you can have a finger down on the D string and still play the A string without any interruption in sound. It is to be practiced keeping fingers down until told to release them. At first this may be a little difficult, as your brain will want to compensate and make you lift your fingers. Keep at it and you'll be alternating strings in no time!
Download Alternating Fingers Exercise
[kml_flashembed movie="http://www.youtube.com/v/VCopMQtsn28" width="425" height="350" wmode="transparent" /]
Review
Remember to keep your fingers curled
Fingers move from the knuckle like a door on a hinge.
Compare 4th finger against the next open string up

Keep at it! Your pinky is weak so it may be hard at first, but the payoff is worth it!
Assignment
Practice
#83-86
#64 (with 4th finger)

Alternating Fingers
4th Finger Placement (Compare with next string up)
Review
Rhythm Rap #66,68,72,77

Texas Two String #82
Back to Lesson Index
Back to Lesson 9
Foward to Lesson 11