Before you begin!
Review Questions
1. What is a scale?
2. What does pizz. mean?
3. Can you place your finger on and name each note on the D string?
4. Are you playing all of your notes with the correct finger, or are you getting lazy and moving your fingers around? Pay attention to where you fingers go!
5. What does does a bracket underneath notes mean?
Lesson 4
Hello and welcome to Stringsavvy.com Violin Lesson #4! In the last lesson we went over our finger numbers, the notes on the D string, as well as the bow hold. Today we will be learning the notes on the A string, the D major scale, and begin to learn how to use the bow.
Part 1
Part 2
Open up to page 10
If you remember from last time, our finger numbers work just like counting.
Index is 1st, Middle is 2nd, ring is 3rd, pinky is 4th. We won't be using the 4th finger just yet, but will come soon.

Just like we found 3rd finger G on the D string, we are first going to place our thumb on the neck right over our first finger marking. Our thumb serves as a home base to remember where our first finger goes. If the thumb is too high or too low, chances are your finger will follow. Place your 3rd finger on the 3rd tape on the A string, and now we are ready to play 3rd finger D!

Make sure you are plucking and placing your 3rd finger on the A string, and not the D. This can be a little confusing because the note we are playing is also called D. However, if you look at the staff you will notice that our open D string is at the bottom of the staff, while the 3rd finger D on the A string we are about to play is on the 4th line. Remember Elvis' Guitar Broke Down Friday?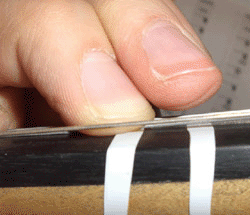 Getting into position for C#, is just like how we did F# on the D string. Place your 2nd finger directly behind your 3rd finger. Remember – This should be nice and tight with little or no room between your fingers. Keeping your 2nd finger down, lift of your 3rd finger. Now you are ready for C#!
If you take a look you will notice that Take Off is almost exactly like Lift off. The only difference once again is that it is played on the A string. Be sure to keep your 2nd finger down the entire time. Whenever you play a D, put your 3rd finger down, whenever you play C#, raise your 3rd finger just barely over the string. Remember to keep your 2nd and 3rd fingers CLOSE!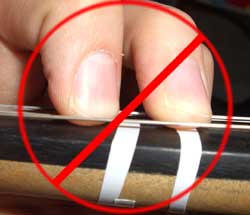 Now on Caribbean Island we will be playing BOTH the 3rd finger D and the open D. Remember what I showed you before about the difference between the two! If you look in the 2nd and 4th measures you will notice there is a bracket around the groupings of 3rd finger and open Ds. Do you remember what a bracket tells you to do? If not, review the previous lesson for a quick reminder!
So you may be wondering now, why do we have TWO Ds? The reason is that in the most common groupings we only have seven notes, "A B C D E F G." What comes after G isn't H, but rather another A. These seven notes repeat themselves, and whenever you travel from one note and go up 8 to itself again, you have what is called an octave.
Example in #32 that we will soon be playing, the notes pan out by measure, D E F G A B C D. So the distance between the two Ds is an octave. If I were to play those two Ds separately and together, you would hear that they sound very similar. In fact when played together- it only sounds like one note being played. If I were to play a D and a C# together you will notice a very big difference in the sound. This is because D and C# are NOT the same notes. B is played on the first finger marking with your first finger, just like E on the D string. Alright, now we have learned all the notes on our D and A strings, lets move on to #31. Which D does it begin on, open D or a 3rd finger? That's right, its 3rd finger on the A string!
You will notice the book helps you by writing in finger numbers, try not to cheat too much while you are learning. The sooner you learn your notes and fingers the better off you are. Some of the song we will be working with next week will have eliminated the note names, and they will be gone forever!
Assignment
Review Pages 4-11

Do you know your note names?
Are you watching the music or staring at your fingers?

Teach yourself #33, 34, 36
Review bow hold
Practice new bow hold practice techniques:

Finger taps
Thumb flex
Rosin rap
Up Bow
Down Bow