Review Questions
1. What does Arco mean?
2. What is the Stop and Set technique?
3. What should your posture look like?
Hello and welcome to Stringsavvy.com Violin Lesson #7! In lesson #6 we learned about holding a proper posture, starting form for bowing, and making clean string changes. Today we will begin bowing exercises and then move on to playing notes. Before you start, it might be a good idea to watch lesson #6 to refresh your brain from last week.
We will begin by playing with just the upper half of the bow, often marked as, "U.H." The upper half of the bow is from the middle point to the tip. Try to go ALL the way to the tip and back to the middle while keeping the bow straight and even.
Now assume the box position as we prepare to play #47, Bow On the D String.
Remember that each bow stroke should be smooth and even, don't jerk the bow or accent direction changes/endings.
Continue to #48, Bow On the A String. For sake of this video I will now switch to the Lower Half (L.H.) The Lower Half goes from the frog to the middle point
Stop and Set
#49, Raise and Lower has to do with the technique we practiced last week called Stop and Set. Remember to use your elbow to alter the angle of your bow, letting you play exclusively on one string.
As we progress through #52, each line takes away a rest until we no longer have any. We want to maintain a good clean string change. Be sure to not only stop your bow, but also not to move it again until you have used your elbow to change strings completely!
#52, A Strand of D 'N' A, has eliminated all rests between string changes. Make sure you still stop and set the bow before playing a new string! Don't forget to lift your bow to reset for a down bow before repeating.
Adding Notes
Pause the video now and tap your foot while you say the note names/rests of every song on page 18.
Hopefully that was very easy! If not, please please PLEASE spend some more time reviewing your notes by playing pages 6-13 while watching the music to make the mental connection. You can even play while saying the note names out loud to further drive it into your head!
Shoulder Pizzicato
When our violin is on our shoulder, we have a different method for plucking our strings. Rest your right thumb on the edge of the fingerboard and use your index finger to pluck through the songs on page 18.
(Demonstration of #54 in video)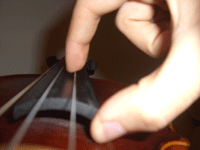 Counting
Count out loud on #60-63. You should not change notes or bow direction until you have started a new number! The bow should be moving throughout the full duration of the note.
The idea here is to learn the length and feel of a quarter note. Because of our use of pizzicato it is very easy to think that a quarter note really only lasts for the first half of the count (1 instead of 1 &).
The D Major Scale
On the D Major Scale I will demonstrate the Whole Bow (W.B.) for you. The bow should move from frog to tip. Take it slow at first so that you can fit the entire bow into your counting while still maintaining proper form!
Count out loud while you play
Tribal Lament tends to give people the most trouble, take your time and count! I'll play it in lesson #8 for you to listen to and play along to see if you did it right!
Great job today! Clean your strings and violin with a soft polish cloth. I use a guitar polish cloth. Never use any abrasive cleaners or cloths on your instrument!
[kml_flashembed movie="http://www.youtube.com/v/5c2Bwdp9lEI" width="425" height="350" wmode="transparent" /]
Review:
1. Shoulder Pizzicato
2. Place thumb on edge of fingerboard and pluck with index finger
3. Hold out bow strokes for full length of a quarter note.
Vocabulary
(U.H.) – Play with the Upper Half of the bow from middle to tip.
(L.H.) – Play with the Lower half of the bow from middle to frog.
(W.B.) – Play with the Whole Bow from frog to tip.
Assignment
Review Lesson #6
#47-53 using each of the three:

Upper Half
Lower Half
Whole Bow

Take a slow enough tempo so you can do this correctly!

Page 18-19

Before playing:
Speak note names
Play song with shoulder pizzicato

Play and count out loud

Hold note out for full value!

Memorize #64