Review Questions
1. What is U.H, L.H. and W.B.? Can you demonstrate them comfortably?
2. What is the proper way to play shoulder pizzicato?
3. From this point on I will assume you have learned all of your notes on the D and A string. If you haven't, then you should probably go back and spend more time with the earlier lessons.
Tribal Lament
How did you do with Tribal Lament? Watch and compare your playing to mine.
Hello and welcome to Stringsavvy.com Violin Lesson #8! In lesson #7 we learned about playing using different parts of our bow while adding fingered notes back into the mix. Today we are going to learn how to count Eighth Notes!
If you remember from lesson two we began counting "1 & 2 & 3 & 4 &"
This allowed us to keep a steady beat, similar to hopping between jumps while skipping rope. This act of splitting up a beat is called subdivision.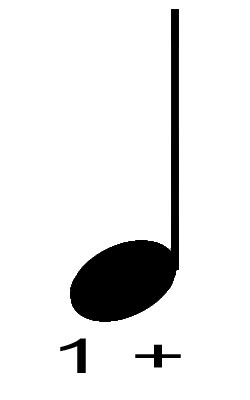 When we count Quarter Notes, each note begins on a number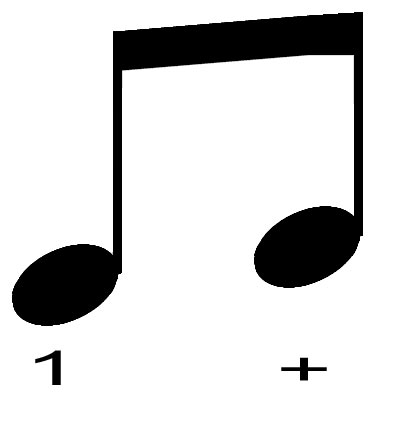 When we count Eighth Notes, each note begins both on both then number as well as the & (and). For each of these we refer to them as "The and of #." For example if we wanted to refer to the "&" immediately after beat one, we would call it, "the & of 1." Easy enough, right?
Now we combine the counting of Eight Notes and Quarter Notes! To make it easier, we are going to circle on the count whenever our bow moves.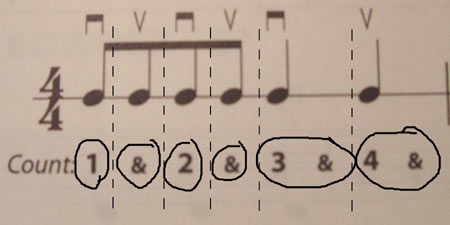 Make sure you don't circle beat 4 of the 4th measure. Can you guess why?
Adding Notes
You will notice that #67 is cleverly titled, "Pepperoni Pizza." This is because it is an oral mnemonic that can help you understand the rhythm throughout this song. The notes are just a downward D Major scale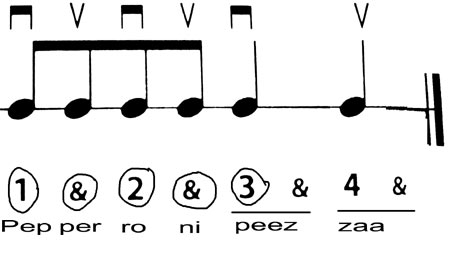 Rhythm Raps
Another way of counting is using what is called the Addition System. Instead of counting a Quarter Note as ONE AND, we count as WUH – UHN. This will help us associate in our head the idea of the length of a quarter note. The Eighth Note we will leave as is because those are to be played as two separate notes.
Use #68 for Example:
Wuh – uhn | 2 + | Three- ee | 4 +
Whenever you have a REST, just whisper the count for that beat.
Try this new counting with #70!
Turn the page and look at #82. You will notice that there is a "4+" written on TOP of the notes. This means to use your 4th finger (pinky) from your left hand to pluck the open string while the violin is on your shoulder. Be sure to keep a rounded finger while doing this.
If you don't already have a metronome, now might be a good time to pick one up!
Review:
Quarter Notes are played only during numbers (

1

+

2

+

3

+

4

+)

Can also be counted as Wuh-uhn Two-oo Three-ee Four-or

Eighth Notes are played on both ONE and AND (

1

+

2

+

)
You can combine these notes to make different rhythms

Pepperoni Pizza (Also spoken as:)
1 + 2 + Three-ee Four-or
Vocabulary
Subdivide – splitting up a beat to better understand its length or count.
Assignment
Count and Clap
#67, 69, 70, 71, 73

Be careful counting! Take a slow enough tempo so you can do this correctly!

#82 – Left hand Pizzicato

With your pinky (4th finger). Keep it rounded!