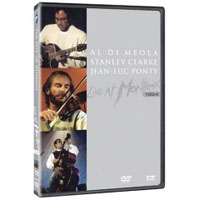 Many people dislike jazz because of the level of musical experience and listening it often requires. It is for this reason jazz is often referred to as "The Musician's Music." However, in 1995 the Rite Of Strings released their self-titled album, peaking at #4 on the US Jazz Charts and stepping entirely out of the need for intense analyzation.You don't need to be a music theory major to sit back and relax to the warm and slightly sentimental sound this group puts out.
The DVD filmed at Montreux Jazz Festival (1997) opens up with at Stanley Clarke (Bass) chart called, "Song to John (Coltrane)." It is here that each of the musicians begin to set the stage for the rest of the performance. DiMeola's guitar, percussive yet melodic at the same time keeps rythym over Clarke's incredible dexterity on the bass, while Ponty simple makes the violin sing. The rest of the performance is not a disappointment, as the group keeps up an incredible level of musicianship throughout.
The individual solos offer a fun break from the trio allowing the musicians to showcase their abilities. Unlike a rockband solo they actually perform written pieces versus simply shredding away as fast as possible.
Al DiMeola's solo utilizes MIDI triggering to add other timbres to his guitar, increasing the depth of his sound.
Clarke's solo is an arrangement of his ever so popular School Days with plenty of strumming and triple fingering.
Ponty showcases his signature Zeta series electric violin while running such effects as delay and octave to seemingly double the size of his violin.
The video and sound quality are crisp, high quality, and topped great great editing. It is too often that you see live performances edited by someone who is clearly not a musician, as they will zoom in on something completely irrelevent to what is going on at that moment. That is not the case with this DVD.
What makes this album so great for the die-hard fans is that each of the songs are basically "unplugged" renditions originals by these artists. At the same time brand new listeners can appreciate their smooth stylings without feeling awkward, lost, or cheesy.
While it is difficult now to find a new copy of the original audio CD, the DVD of their live performance is still under production and highly reccomended. Not to mention, VERY fun to watch!
Listen to a brief sampling (It would be impossible to give a decent taste of various parts of the album in under a minute!)
Listen to individual samples and find a used copy of the album here.
Purchase the live DVD here.
[amazon-product alink="0000FF" bordercolor="000000″ height="240″ tracking_id="stringsavvyco-20″]B000000QIH[/amazon-product]
[amazon-product alink="0000FF" bordercolor="000000″ height="240″ tracking_id="stringsavvyco-20″]B00081U6PA[/amazon-product]
Check out more cool bands featuring violinists at the Stringsavvy Store