Hello and welcome to Stringsavvy.com Violin Lesson #3! In the last lesson we went over holding the instrument, how to pluck, and learning our string names. Today we will be learning the notes on the D string as well as how to hold the bow!
Opening up to page 6 you will notice how the finger numbers work:
First Finger – Index
Second Finger – Middle
Third Finger – Ring
Fourth Finger – Pinky


(Click to view full size)
Place your thumb on the neck, just barely coming over the fingerboard right on your first tape marking and curl your first finger around to be placed on the D string. This is the proper placement for your thumb. It should be just about perpendicular to the neck versus running right along side it.
Place your 3rd finger on the 3rd tape and you're ready to play G!
To get into position for F#, place your 2nd finger directly behind your 3rd finger. This should be nice and tight with little or no room between your fingers. Keeping your 2nd finger down, lift of your 3rd finger. Now you are ready for F#!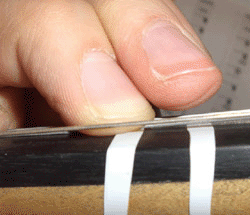 The trick to pulling off Lift Off is to keep your 2nd finger down the entire time. Whenever you play a G, put your 3rd finger down, whenever you play F#, raise your 3rd finger just barely over the string. Make sure that when you do put your finger back down, that there is NO space between the 2nd and 3rd fingers as pictured below!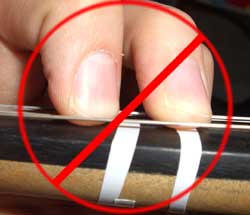 #20. Good King Wenceslas
The bracket your see underneath the G A G in the first 2 measures is a symbol used to tell you to keep your finger(s) down. The secret to doing this is making sure you're making a sort of tunnel over the A string without actually touching it.
How to Hold the Bow
Make a thumbs up
Thumbs Down, place on the edge of the frog
Middle Finger across on other side of the bow
Ring Finger on or behind logo/eye
Rest Index and Pinky on top
Vocabulary
Pizzicato – Pluck the strings. Also written as pizz.
Alternating Fingers Exercise
This exercise is designed to help you shape your fingers and watch your angles so as to not mute other strings when playing. For instance, you can have a finger down on the D string and still play the A string without any interruption in sound. It is to be practiced keeping fingers down until told to release them. At first this may be a little difficult, as your brain will want to compensate and make you lift your fingers. Keep at it and you'll be alternating strings in no time!
Download Alternating Fingers Exercise
Assignment
Review Pages 4 & 5
Practice #10-22 on your own.

Watch out for rests and repeats!
Use your CD to play along with.
Alternating Fingers Exercise

Practice your bow hold daily. You can kill time at work/school by picking up a pen or pencil and practicing!
Alternating Fingers Exercise (Pizzicato only!)