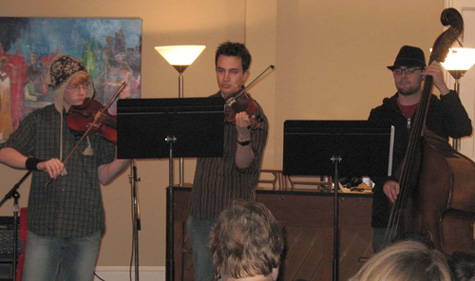 (Left to right): Andrew Pearson, Thom Zolghadr, Jason Peters
On Saturday, March 1st, my group, 8 Bit Trio performed a short set consisting of jazz standards Red Clay, Recordame, and popular video game theme Mario. Although we weren't mentioned in the article, this fantastic photo above is featured on the page alongside our names!
The Open Mic was held at Music Matters School of Music in Batavia, IL. Music Matters also asked for and matched donations to the Access to Music program for underprivileged children of which I am an instructor.
It had been a while since we had performed as trio, and so we were definitely a little bit nervous! However, after the set we had a nice rush of people coming up to talk to us! Andrew was even recognized from his performance on the Grammy Awards and was asked to pose for a picture!
Article Here:
http://www.triblocal.com/Batavia/8bittrioarticle